Some Product may contain affiliate links, Meaning We get a commission if you decide to make purchase through my link at no additional cost to you.
This blog contains affiliate links to products. We may receive a commission for purchases made through these links.
Africa, a continent of unparalleled beauty and cultural richness, has long been a source of inspiration for fashion enthusiasts worldwide. From the vibrant textiles of West Africa to the intricate beadwork of East Africa, African fashion embodies a blend of tradition and contemporary style. If you're looking to embrace the essence of an African goddess in your wardrobe, you're in for a captivating journey. In this guide, we'll unveil a curated selection of clothing and accessories that will empower you to channel your inner African goddess. Whether you're seeking elegant dresses, bold prints, or unique jewelry, these top picks will help you exude the grace, strength, and timeless beauty of African heritage. Prepare to adorn yourself in the colors, patterns, and stories that have woven the tapestry of African fashion for generations.
The Ankara Oversized Sun Hat is a fashion statement that combines style, protection, and cultural flair. Crafted from vibrant and authentic Ankara fabric, this hat exudes African charm with its bold patterns and colors. Its oversized brim provides ample shade, shielding your face and shoulders from the sun's harsh rays. Whether you're lounging by the pool, strolling on the beach, or attending an outdoor event, this hat offers both UV protection and an eye-catching accessory. Its adjustable chin strap ensures a secure fit, and the lightweight design keeps you cool and comfortable.
The world of interior design is constantly evolving, with new trends and styles emerging every year. In recent years, there has been a growing appreciation for global-inspired decor, and African print table runners have captured the attention of many. These vibrant and eye-catching table runners bring a touch of African culture and tradition to any dining space, making them a popular choice for those looking to infuse their homes with color and character.
Ankara Print Dresses:
Ankara fabric, known for its eye-catching prints and bold colors, is an iconic textile from West Africa. Choose a stunning Ankara print dress that speaks to your style and personality. Whether you prefer a flowing maxi dress or a fitted cocktail dress, you'll exude elegance and vibrancy with this African-inspired piece for every style and occasion.
Kente Cloth Accessories:
Kente cloth, originating from Ghana, is characterized by its intricate weaving patterns and vibrant hues. Elevate your ensemble with Kente cloth accessories like scarves, headbands, or even a stylish Kente handbag. These accessories are a versatile way to incorporate African culture into your daily outfits.
The African Print Apron is a culinary fashion statement that celebrates the vibrant heritage of Africa. Made from authentic African prints, this apron is a burst of color and culture in your kitchen. Its bold patterns and rich hues not only protect your clothes from spills and stains but also infuse your cooking experience with style. Whether you're preparing a family dinner or hosting a barbecue, this apron adds a touch of African elegance to your culinary endeavors. The adjustable neck strap and waist ties ensure a comfortable fit for all sizes. Embrace the fusion of fashion and function with the African Print Apron, a kitchen essential that celebrates the beauty of African design.
African themed Jewelry:
The Maasai people of East Africa are known for their exquisite beadwork. Adorn yourself with Maasai-inspired beaded jewelry, such as colorful necklaces, bracelets, and earrings. Each piece tells a unique story and adds a pop of color to your attire.African jewelry is known for its intricate beadwork and meaningful designs. Incorporate the beauty of African culture into your style with beaded necklaces, bracelets, and earrings. Each piece tells a story and adds a touch of tradition to your look.
Head Band
Add a touch of African elegance to your dining experience with African Print Napkins. Crafted from authentic African fabric featuring vibrant patterns and colors, these napkins elevate any table setting. Perfect for both casual gatherings and formal occasions, they are a versatile addition to your dining decor. These napkins not only serve a functional purpose but also tell a story of African culture and artistry. Whether you're enjoying a cozy family meal or hosting a special event, these napkins bring a unique and captivating flair to your table. Embrace the beauty of African design and make every meal a celebration with African Print Napkins.
The African Print Oven Glove is a culinary essential that marries style and functionality. Crafted from authentic African fabric adorned with vibrant patterns and rich colors, these oven gloves not only protect your hands from heat but also add a touch of cultural flair to your kitchen. Whether you're baking, grilling, or cooking up a storm, these gloves are designed for durability and heat resistance. Their unique design celebrates the artistry and diversity of African culture while ensuring a comfortable and secure grip. Elevate your culinary experience and showcase your appreciation for African heritage with the African Print Oven Glove, a fusion of fashion and practicality.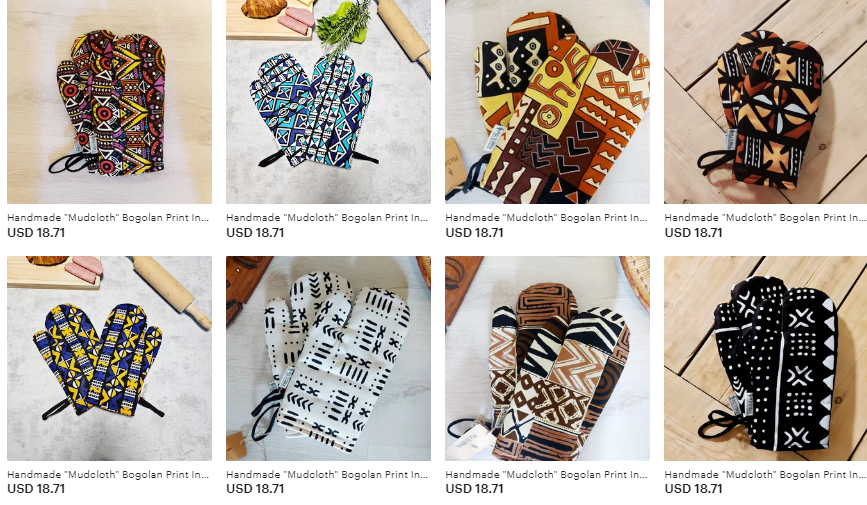 The Mudcloth Print Throw Blanket and Pillow Set is a captivating blend of comfort and artistry. Made from authentic mudcloth fabric, these pieces feature traditional African designs that tell a story of heritage and craftsmanship. The throw blanket is perfect for cozying up on the couch or adding a layer of culture to your bed, while the matching pillow covers bring a harmonious touch to your home decor. These pieces not only provide warmth and style but also serve as a tribute to African tradition. Elevate your living spaces with the Mudcloth Print Throw Blanket and Pillow Set, a symbol of cultural appreciation and coziness.
The African Print Fan is a cultural accessory that combines style and function. Crafted from authentic African fabric, often featuring bold patterns and vibrant colors, these fans offer a refreshing breeze while celebrating the beauty of African design. Whether used for cooling off on a hot day or as an elegant accessory during special occasions, the African Print Fan adds a touch of cultural charm to any setting. Portable and lightweight, it's a practical choice for staying cool and fashionable. Embrace the fusion of fashion and utility with the African Print Fan, a symbol of African heritage and a delightful way to beat the heat.
Headwrap
The African Print Fan is a striking fusion of fashion and function, offering respite from the heat with a touch of cultural flair. Crafted from authentic African fabric adorned with bold patterns and vibrant colors, this handheld fan is both stylish and practical. Its compact size makes it a portable accessory, perfect for staying cool on hot days or adding a unique touch to your outfit. Whether used for a cultural event, a summer outing, or simply as a decorative piece, the African Print Fan is a symbol of African artistry and a statement of cultural appreciation. Stay cool in style with this exquisite accessory.
African-Inspired Footwear
: Complete your African goddess look with stylish footwear. Opt for sandals adorned with African beads or intricate patterns, or go for modern African-inspired shoe designs that can be worn daily.
CONCLUSION
So, go ahead and embrace your inner African goddess. Let your fashion choices reflect not only your personal style but also your appreciation for the diverse and captivating world of African fashion. Your wardrobe becomes a canvas on which you can paint the story of your connection to Africa's enduring spirit of beauty and grace. With these top picks, you can step confidently into the world as a modern-day African goddess, ready to inspire and be inspired by the rich tapestry of African heritage.